Knee replacement is done when the surfaces in the knee are worn out and painful. These days it is not as painful as it used to be thanks to better anaesthetic techniques.
Better materials and implantation methods also mean that knee replacements will last longer and may be ok for some younger (and older) people than before.
When arthritis severely damages the surfaces of the knee walking, getting out of a chair, climbing stairs and driving for long periods may be difficult. Eventually there may even be pain at night that wakes you. Wear of one surface more than another may cause a gradual worsening of the alignment of the limb.
Initially non-surgical measures like NSAIDs, activity modification and walking aids are insufficient to relieve pain and achieve function. Knee replacement may then be considered.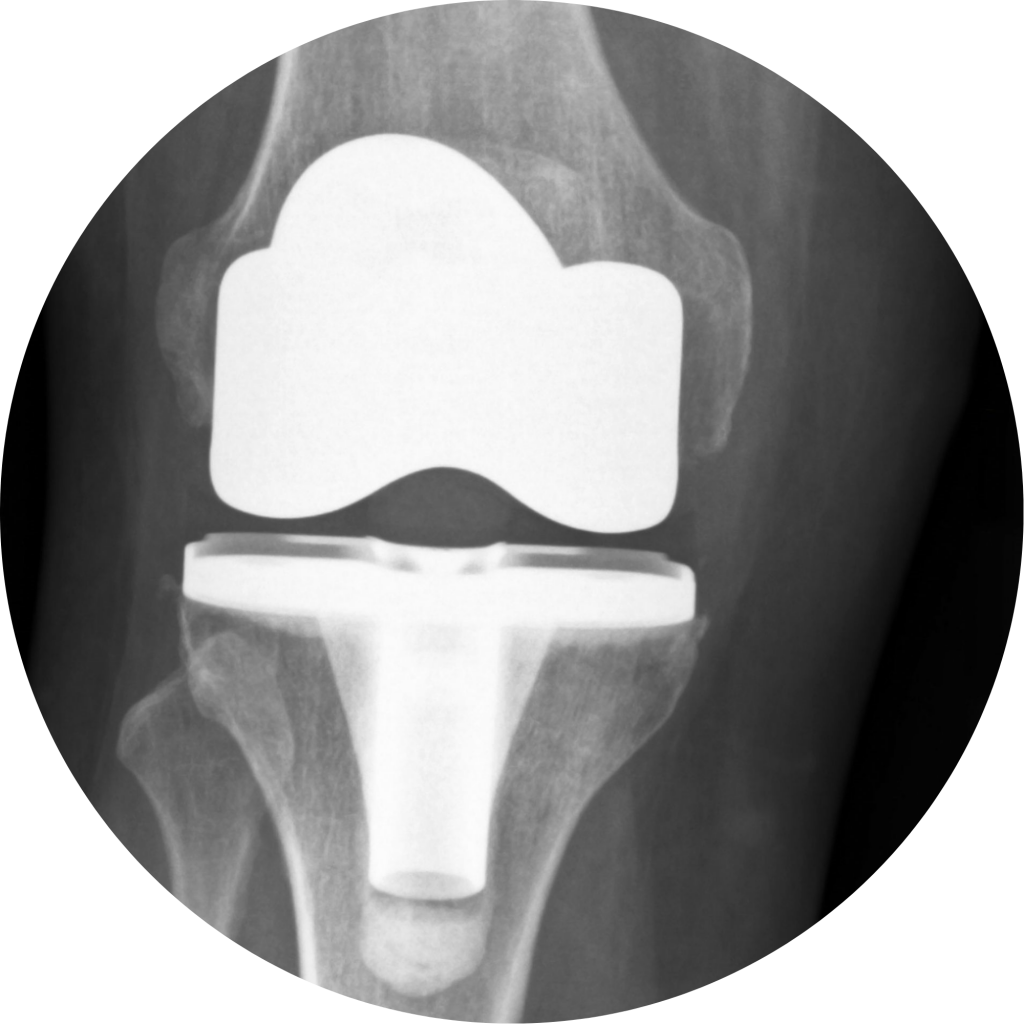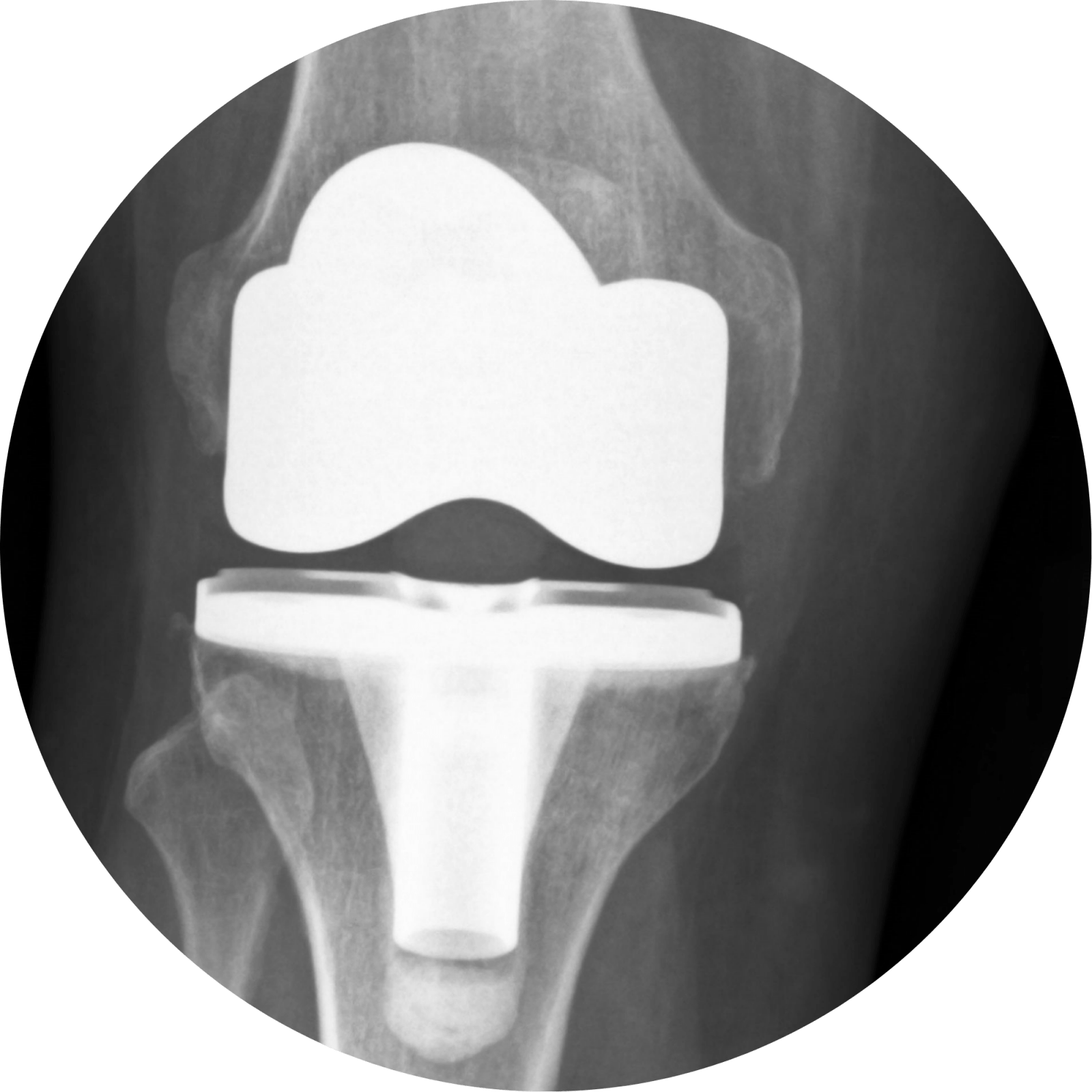 The knee is the largest joint in the body where the ends of the femur and tibia articulate. The patella sits at the front of these two bones and act as a pulley for the quadriceps muscle to work around. The ends of the bones are covered in articular cartilage. It is the wearing of the articular cartilage that results in arthritis.
The menisci are C-shaped fibrocartilage discs that act as shock absorbers in the knee. A thin lining of tissue called synovium surrounds the joint and produces lubricating fluid.
The knee is the largest joint in the body where the ends of the femur and tibia articulate. The patella sits at the front of these two bones and act as a pulley for the quadriceps muscle to work around. The ends of the bones are covered in articular cartilage. It is the wearing of the articular cartilage that results in arthritis.
The menisci are C-shaped fibrocartilage discs that act as shock absorbers in the knee. A thin lining of tissue called synovium surrounds the joint and produces lubricating fluid.
Causes
The main types of knee arthritis are osteoarthritis, rheumatoid arthritis and post traumatic arthritis.
Evaluations and Tests
Dr Simon Hutabarat may recommend that you see your GP or another specialist to assess your general health before surgery. He or she will identify any problems that may interfere with the procedure. If you have certain health risks, a more extensive evaluation may be necessary before surgery.
To help plan your procedure, Dr Simon Hutabarat may order preoperative tests. These may include blood tests or an electrocardiogram (ECG). You may be seen at a preadmission clinic where staff will review your results.
A CT scan is often used to take a high quality image of the knee and an image from the hip to the ankle to assess the alignment of the limb. This must be done at least 4 weeks prior to the actual procedure.
The CT images are used to 'perform' a virtual operation and make adjustments as required to optimise the sizing and positioning of the implant.
When the best placement of the implant is achieved 3D printed guides are made that are specifically designed to fit the individual patient. The sterilised guides are placed in the knee during surgery to reproduce the optimal cuts planned for the knee.
Feel free to discuss your concerns with Dr Hutabarat. Never hesitate to ask questions when you do not understand. The more you know, the better you will be able to manage the changes that knee replacement surgery will make in your life.
An important factor in deciding whether to have knee replacement surgery is understanding what the procedure can and cannot do. Most people who undergo knee replacement surgery experience a dramatic reduction of knee pain and a significant improvement in their ability to perform the common activities of daily living.
With normal use and activity, the polyethylene bearing between the knee replacement implants begins to slowly wear. Excessive activity or being overweight may speed up this normal wear and cause the knee replacement to loosen and become painful. Therefore, most surgeons advise against high-impact activities such as running, jogging, jumping, or other high-impact sports.
Realistic activities following total knee replacement include unlimited walking, swimming, golf, driving, hiking, biking, dancing, and other low-impact sports.
With appropriate activity modification, knee replacements can last for many years.
Admissions Instructions
Your knee replacement will be performed as an inpatient. Generally admission is on the day of surgery. 
Be sure to inform the team of any medications or supplements that you take. You may need to stop taking some of these before surgery.
The hospital will contact you ahead of time to provide specific details of your procedure. Make sure to follow the instructions on when to arrive and especially on when to stop eating or drinking prior to your procedure.
Anaesthesia
Before your surgery, a member of the anaesthesia team will talk with you. Knee replacement can be performed under a combination of local, regional, or general anaesthesia:
Local anaesthesia numbs just your knee
Regional anaesthesia numbs you below the waist
General anaesthesia puts you to sleep
Dr Hutabarat and your anaesthetist will talk to you about which method is best for you.
Approaches
In a total knee replacement damaged bone and cartilage is removed and replaced with prosthetic components.
The path a surgeon takes into the body is known as the approach. The three main approaches used for knee replacement are the medial parapatellar, lateral parapatellar and subvastus approaches. Each of them have different pros and cons. The medial parapatellar approach is generally the commonest approach used for knee replacement.
Implantation 
Once the approach has been completed and adequate access has been achieved, the sterile 3D printed jigs are fitted to the knee and double checked to ensure alignment is optimal.
Bone resections are then performed and after trialling and adjusting ligament tensions, the prosthetic components are either cemented or press fit in place into the tibia, femur and patella. A polyethylene spacer is locked in place on the tibia to allow a smooth low friction articulation with the femoral component.
Further infiltration of local anaesthetic is then given before the knee is closed up and a dressing applied.
Sometimes a special suction dressing and/or drain is placed to drain away any excess blood from the wound.
After surgery, you will be moved to the recovery room where you will have an x-ray taken and where you will remain for several hours while your recovery from anaesthesia is monitored. After you wake up, you will be taken to your hospital room.
Recovery
The success of your surgery will depend in large measure on your weight and how well you follow your instructions regarding home care during the first few weeks after surgery.
Wound Care

You may have stitches or staples running along your wound or a suture beneath your skin. The stitches or staples will be removed approximately 2 weeks after surgery.

Avoid getting the wound wet until it has thoroughly sealed and dried. You may continue to bandage the wound to prevent irritation from clothing or support stockings.

Diet

Some loss of appetite is common for several weeks after surgery. A balanced diet, often with an iron supplement, is important to promote proper tissue healing and restore muscle strength. Be sure to drink plenty of fluids.
Exercise is a critical component of home care, particularly during the first few weeks after surgery. You should be able to resume most normal light activities of daily living within 3 to 6 weeks following surgery. Some discomfort with activity and at night is common for several weeks.
Your activity program should include:
A graduated walking program to slowly increase your mobility, initially in your home and later outside.
Resuming other normal household activities, such as sitting, standing, and climbing stairs.
Specific exercises several times a day to restore movement and strengthen the knee. You may be able to perform the exercises without help, but you may have a physiotherapist help you at home or in a therapy centre the first few weeks after surgery
Possible Complications of Surgery
The complication rate following knee replacement surgery is low. Serious complications, such as joint infection, occur in less than 2% of patients. Major medical complications, such as heart attack or stroke, occur even less frequently. However, chronic illnesses may increase the potential for complications. Although uncommon, when these complications occur they can prolong or limit full recovery.
Avoiding Problems After Surgery
Other Precautions
Prior to discharge from the hospital, your physiotherapist will provide you with any specific precautions you should follow.
Outcomes
How Your New Knee Is Different
You may feel some numbness in the skin around your incision. You also may feel some stiffness, particularly with excessive bending. These differences often diminish with time, and most patients find these are minor compared with the pain and limited function they experienced prior to surgery.
Your new knee may activate metal detectors required for security in airports and some buildings. Tell the security agent about your knee replacement if the alarm is activated. You may ask for a card confirming that you have an artificial knee.
Protecting Your Knee Replacement
There are many things you can do to protect your knee replacement and extend the life of your implants. These include:
Participating in a regular light exercise program to maintain proper strength and mobility of your new knee. Cycling is an excellent form of exercise both before and after knee replacement.
Try and maintain your weight within a healthy weight range.
Take special precautions to avoid falls and injuries. If you break a bone in your leg, you may require more surgery.
Make sure your dentist knows that you have a knee replacement. Talk with your orthopaedic surgeon about whether you need to take antibiotics prior to dental procedures.
Dr Hutabarat may see you periodically for routine follow-up examinations and x-rays, even if your knee replacement seems to be doing fine. If there are problems outside these scheduled follow ups, please contact the rooms. We frequently fit patients in at short notice to deal with possible issues earlier rather than later.
Frequently Asked Questions
This information has been adapted from information on the American Academy of Orthopaedic Surgeon's website which may have other useful information on other orthopaedic topics. The information on Dr Hutabarat's website is provided as an educational service and is not intended to serve as medical advice. Anyone seeking specific orthopaedic advice or assistance should consult Dr Hutabarat's rooms for an appointment on 1800 686694 or via email (office@ccbj.com.au).
Can't find what you are looking for?
Have a question or inquiry or looking for some more information about our services, get in touch and we will be happy to assist.